From The Palomar gang (you know how we love this group), The Barbary Next Door is, well, next door to their restaurant, The Barbary. Taking over the location that was their deli – Jacob The Angel – this matchbox space (one bar with about 10 stools, and a standing ledge for perching) is small but perfectly formed.
The Décor/Vibe
The restaurant is atmospheric, with great lighting and ambience from bustling Neal's Yard, and as in all their properties, the playlist is banging. There's not a lot that isn't in view: at the chef's counter (two stools in front of the prep area), you are essentially looking into the kitchen, and those are the best seats in the house. They've put a lot of attention into nice crockery, including vintage Babycham coupes and Moroccan teacups.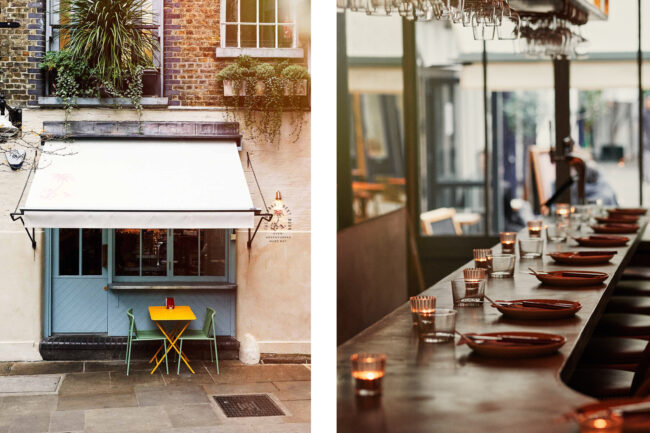 Georgia Rudd
The Menu
Come here to snack and share. The menu takes inspiration from Spain and north African cooking, and highlights include their dips (labneh za'atar and beetroot) and bread (two different breads: get both, and add the za'atar crisps too). They have fresh crudo and salads (the fennel and blood orange is so fresh!), and the larger dishes include slow-cooked lamb (24 hours), and sea bass (which is already sliced for sharing).
Georgia Rudd
Drinks
Here the drinks list leans towards Spain, including sherries, cavas, Riojas and excellent orange wines. The list is great, and they serve almost everything by the glass. We'll be back for a three stones martini, too.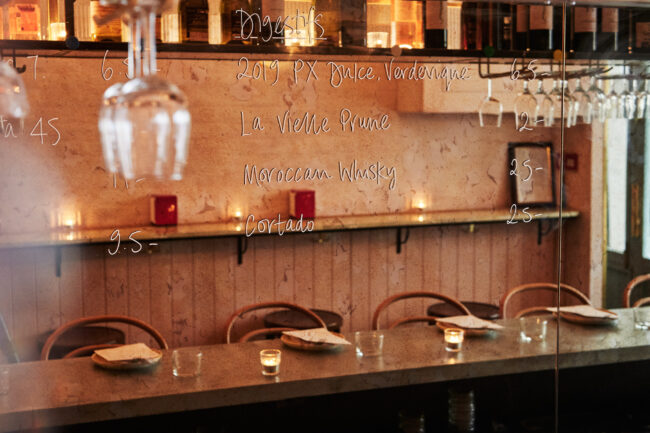 Georgia Rudd
Highlights
The size of this place and the staff. With flattering lighting, great music, sharing plates and good wines, with the right company (and timing of your reservation), you really could spend the whole night here. Another winner from the group.