The City File is your chance to get to know a city through the eyes of some of UJ's faves. From chefs to DJs, our insiders will show you the ins and outs of their favourite cities. This time, we're taking things into our own hands – here's our profile of Abu Dhabi.
Hotels
On the shiny Al Maryah island, this waterside newbie glistens. Expect the signature five star Rosewood foundation, but with UAE touches. As for dining, there are more options (nine restaurants) than you can get through, but thankfully, many options doesn't mean XXL hotel; it still feels like a relatively intimate affair. Highlights include the art (we also fell in love with Parisian artist Richard Orlinski around the corner at Novus Gallery), the concierges; this is one of the very few hotels where the concierges actually know their stuff and give unbiased recommendations, and the wine at the bar. Other hotels in Abu Dhabi (Park Hyatt, Shangri-La) are on the beach, so it's nice to stay in what feels like downtown.
Top tip: The pool gets sun early and late, so make sure you get up early. Oh, and book a Manor Club room – for the slight increase you can eat breakfast and a light lunch here, and they have cocktail hour too, all included.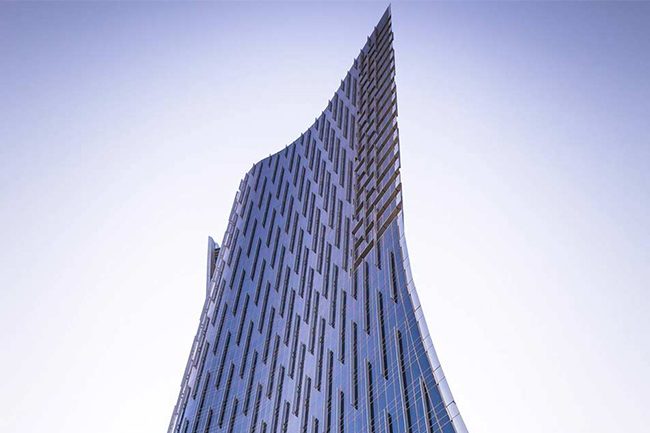 Rosewood Abu Dhabi
Hip hotel alert! Set to open in 2018, the Abu Dhabi EDITION is located in the downtown district on the waterfront. There will be 244 guest rooms, 57 exclusively serviced residences, two signature restaurants, a gourmet market, lobby bar, pool bar and three-story nightclub. Two pools, a state-of-the-art fitness centre and spa with seven treatment rooms are available for hotel guests, too. Sign us up.
EDITION Abu Dhabi
If you truly feel like getting away from it all, head here for a couple of days. About a two hour drive from Abu Dhabi, here you'll stay in palatial sized rooms, surrounded by dunes. Spa, pool, sun – plus excursions should you feel the need to leave the grounds. And with the amount of awards this place has won, it must be a pretty special spot; we have it on good authority from a very frequent traveller that indeed, it is.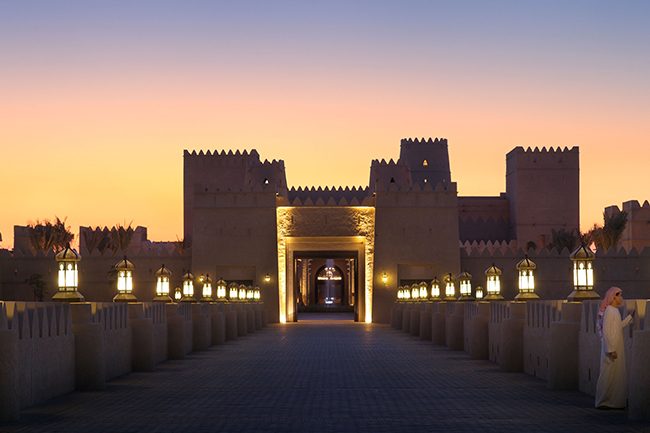 Qasr Al Sarab
Restaurants
Zuma and Coya
We don't usually like visiting places we have in London when we are away, but being in Abu Dhabi demands a bit of glossy bling, so hit up some posh LDN spots like Zuma and Coya, which are both a two minute walk from The Rosewood.
Top tip: Coya allows smoking in the bar, so you'll probably want to book a table in the dining room.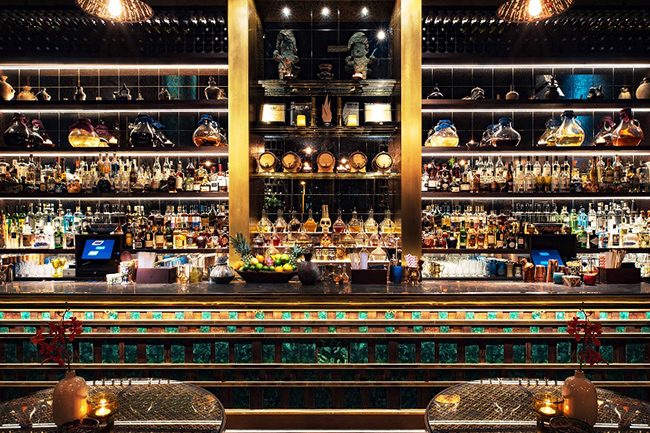 Coya
Culture
The Louvre is opening here on November 11th, and the building alone is worth the trip. Designed by Jean Nouvel, the structure has been seriously delayed (we're talking seven years delayed), but it's going to be well worth the wait. Located on Saadiyat Island, an area they are turning into a 'cultural district' just off the coast of the UAE capital, the domed building overlooks the sea. The inaugural exhibition will be "From One Louvre to Another," to open on Dec. 21, looking at the history of Musée du Louvre in Paris.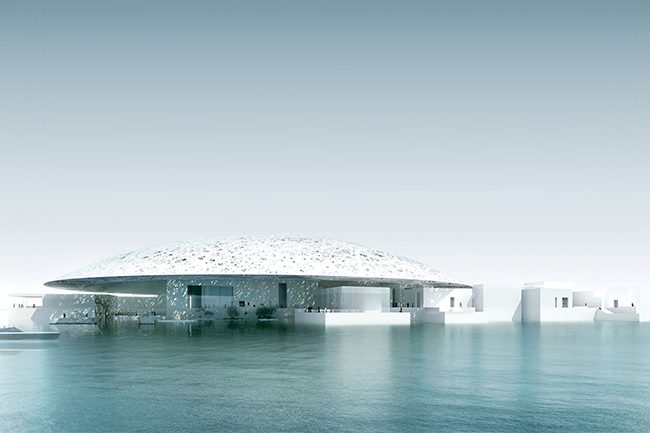 The Louvre Abu Dhabi Photo: © TDIC
Another Frank Gehry production, located close to the Louvre on the northwestern tip of Saadiyat Island, this will be an outstanding addition to the cultural district. Surrounded by water on three sides, the museum also acts as a 'breakwater', preserving the island's north beach zone. Multi-tasking done right.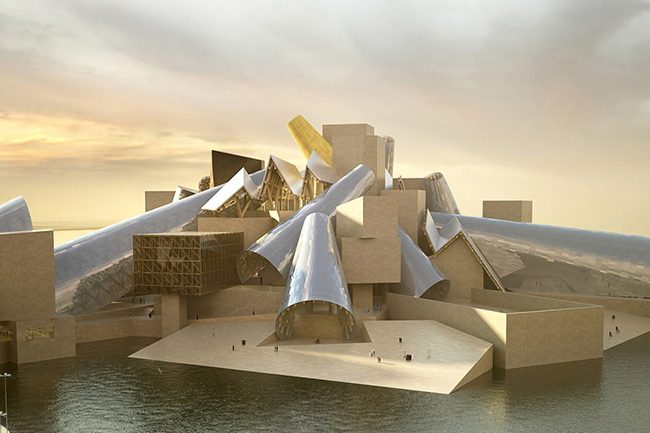 Guggenheim Abu Dhabi
Bars/Clubs
Just a warning, they play blaring house music here – and not the good kind. But pay your entrance fee (approx. 250 AED) and head straight for the beach and you'll be happy. Turquoise waters, white sand, pina coladas and summer rolls, all from serviced beach chairs. The people watching is good here too: spot groups smoking shisha in the pool (when in Rome!) and play I spy the designer beach bag. It's relatively private, dolphins and turtles are regular visitors, and your entrance fee also includes the gym and spa, should you be so inclined.
Top tip: If you are staying at the Rosewood, you get a discount.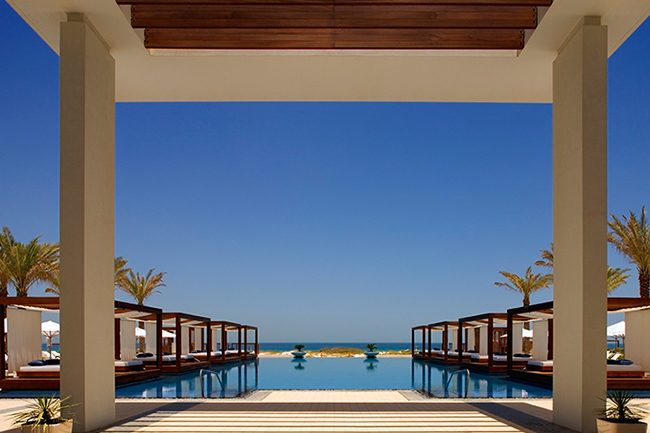 Saadiyat Beach Club
That's right, Ibiza's Blue Marlin is here too. And all the big Ibiza names – Guy Gerber, Carl Cox, Luciano – are coming through. Fridays are a big brunch day here (people have the day off), so it's a good day to get settled in the sunshine and tuck in.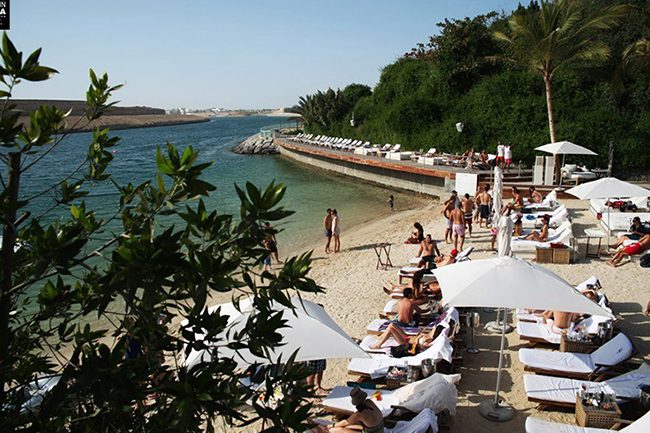 Blue Marlin UAE
Flights
So, there are several perks with Emirates business – a bar on board and in-seat mini bars being two of them – but a MAJOR highlight is the chauffeur service they offer. Book any Emirates business flight and get six chauffeured rides along the way included in your price. That means transfers to and from your house to the airport, a drive to and from Dubai to Abu Dhabi (1.5 hours) etc. It all adds up and makes this flight good value. Their online portal to book everything is extremely user friendly too.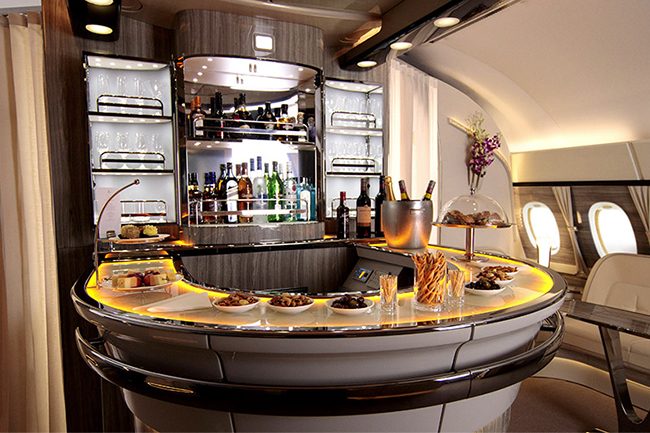 Emirate Business on-board bar